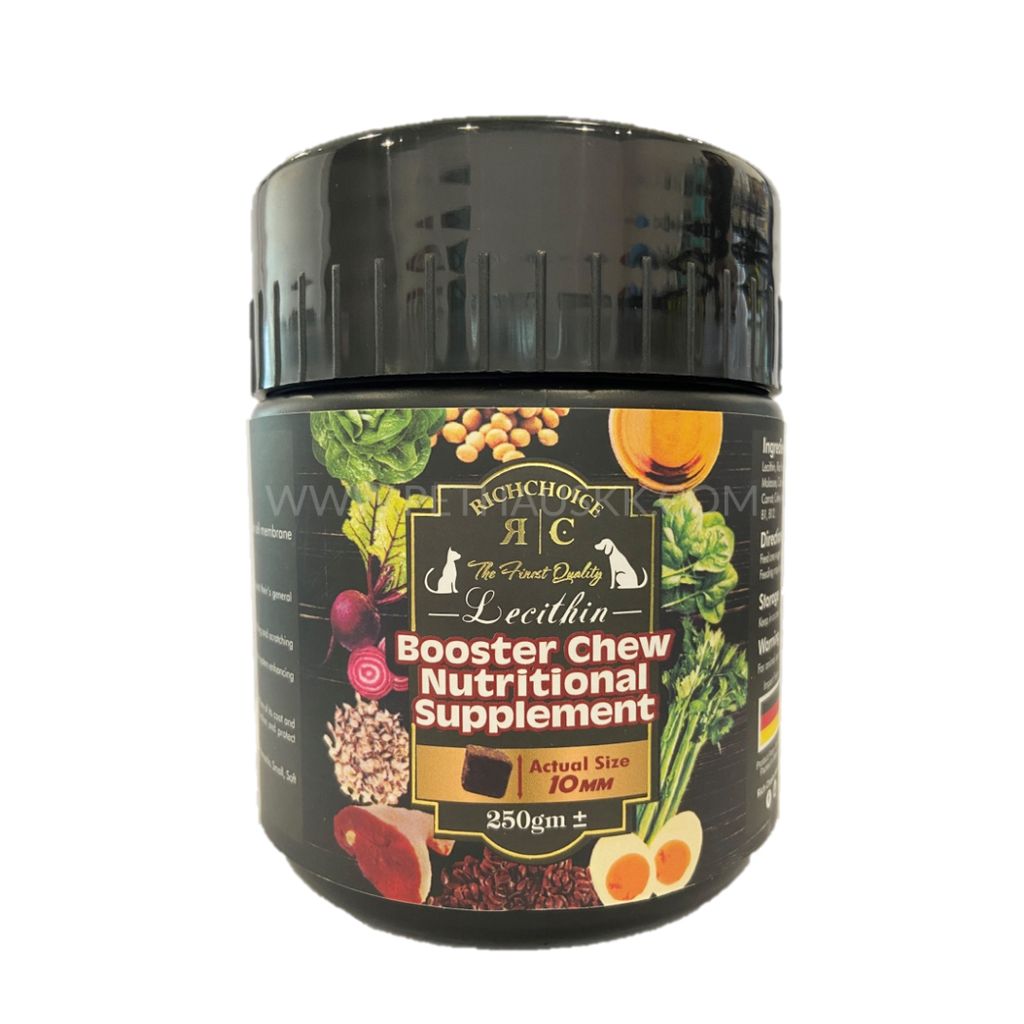 Rich Choice Holistic Lecithin Booster Chew Nutritional Supplement (Dog & Cat) 250g
Features:
All in one supplement
Rich in antioxidant
Natural fat emulsifier
Helps repair cell membrane
Improves immune system
Stimulates memory and learning abilities
Product Description:
A premium complete all in one feline and canine dietary and nutritional supplement to boost their general health, energy and stamina
Includes essential fatty acids to promote healthy skin and coat - resulting in less shedding, itching and scratching
Combines necessary vitamins, minerals and antioxidants to strengthen your cat's & dog's immune system enhancing their overall health and wellness
Rich in lecithin to help your feline and canine emulsify and absorb fats, improve the condition of its coat and digestion, lower cholesterol, aid the nervous, digestive and immune system, boost liver function and protect agains the development of diabetes
A holistic nutritional supplement especially formulated for dogs with allergies or sensitive stomachs. Small, soft nugget chews can be given to your feline and canine as a treat.
Ingredients: Lecithin, Rice Bran, Flax Seed, White Rice Flour, Rolled Oats, Chicken Powder, Chicken Liver, Powdered Cane Malasses, Calcium Carbonate, Mixed Tocopherols, Cod Liver Oil, Powdered Egg, Glycerin, Carrot, Celery, Lamb, Parsley, Lettuce, Watercress, Spinach, Wheat Germ, Vitamin Supplement: Riboflavin, A, D3, E, B1, B12.

Feeding Instruction:
Feed one nugget daily for each 5 pounds of cat's & dog's weight. Can be given as a treat or crumbled over regular meals. Feeding may be divided over AM and PM.
Suitable for Dog & Cat, above 3 months old

Product Origin: Germany

Customer comments
| Author/Date | Rating | Comment |
| --- | --- | --- |
---