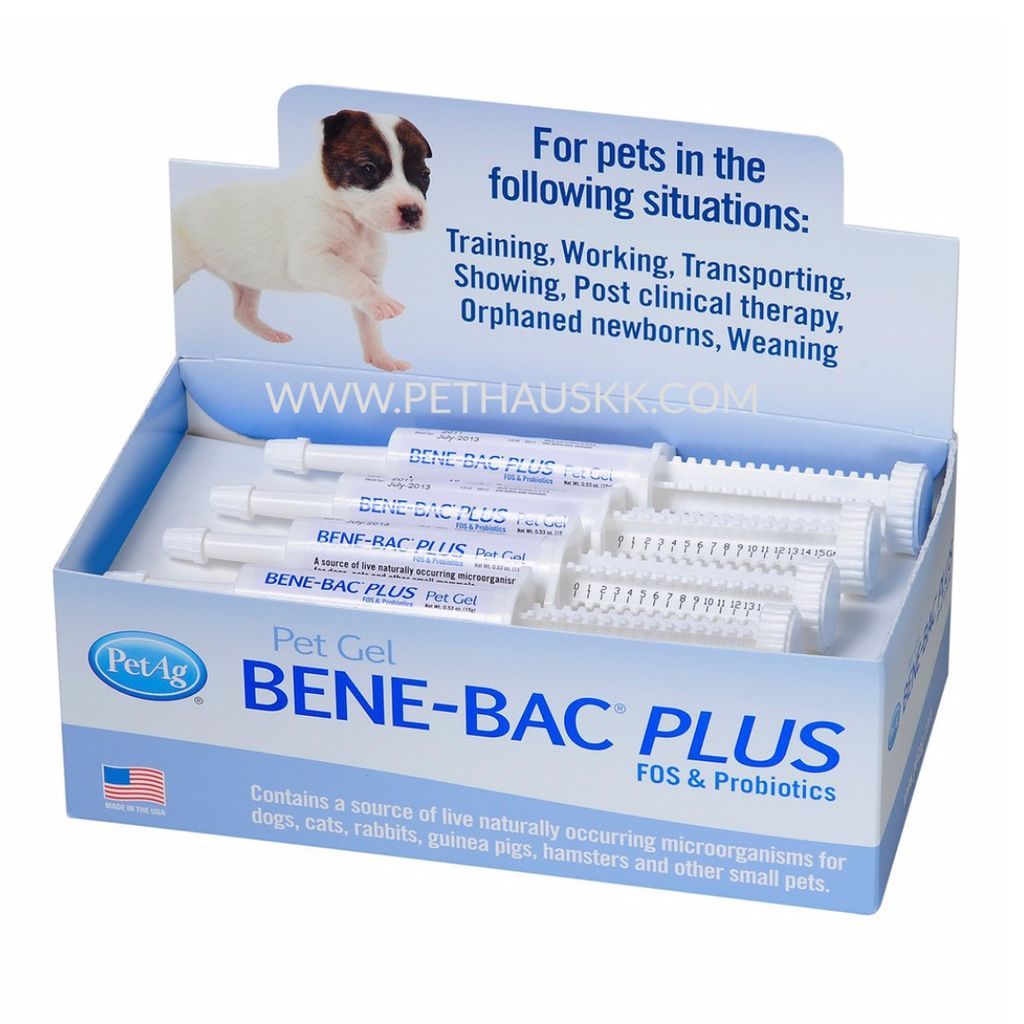 PetAg Bene-Bac Plus Pet Gel 15g
Features:

Bene-Bac Plus Pet Gel is a palatable gel in an easy-to-use, 15-gram syringe containing concentrated FOS and live, naturally occurring microorganisms.
It provides beneficial bacteria for intestinal stabilization and growth, ensuring that the beneficial bacterial survives through the stomach acids to the small intestine. It helps to leave out harmful intestinal organisms and is easily digested for instant energy. This is a great help for managing pets under adverse conditions like grooming, breeding, weaning, surgery or transporting.
Made in USA
Ingredients:
Dried Lactobacillus casei fermentation product, Dried L.fermentum fermentation product, Dried L. acidophilus fermentation product, Dried L. plantarum fermentation product, Dried Enterococcus faecium fermentation product, Dried Bifidobacterium bifidum fermentation product, Dried Pediococcus acidilactici fermentation product, Sunflower Oil, Sucrose, Silicon Dioxide, Dextrose, Artificial Color.
Size:
15 g

Feeding Guideline:
Newborns: Administer 1/2 gram at birth; 1/2 gram on days 3, 5 and 7 and at weaning. For hand fed orphans increase to 1 gram on days 7, 14 and at the introduction of solid food. Administer 1 gram when intestinal upset or appetite loss occurs.

Post weaning/older: Administer 1 gram per 10 lbs. of body weight up to 40 lbs. For 50 lbs. of body weight or over use 5 grams.

Pocket pets and other small mammals: Administer 1/2 gram at birth, 1/2 gram on days 5 and 7 as intestinal upset occurs. These levels should be given before and after marked environmental changes. Two treatments, 3 days apart are recommended. Administer by placing gel directly into mouth. Not for human consumption. This product is intended for intermittent or supplemental feeding only. Store at room temperature.
Customer comments
| Author/Date | Rating | Comment |
| --- | --- | --- |
---