Pet Pounce Pets Sanitizer Floral (For All Pets)
PETS POUNCE PETS SANITIZER FLORA
A fragrance-free biotechnological formula that eliminates odor and kills 99.99% of bacteria commonly found airborne near and on surfaces.
Bio Ion Pets Pounce is ideal for homes, toilets, washrooms, shoe closets, cupboards, in-car compartment, building lobbies, hotels, hospitals, education premises, reception halls, factories, garbage & dumping areas and high-traffic areas.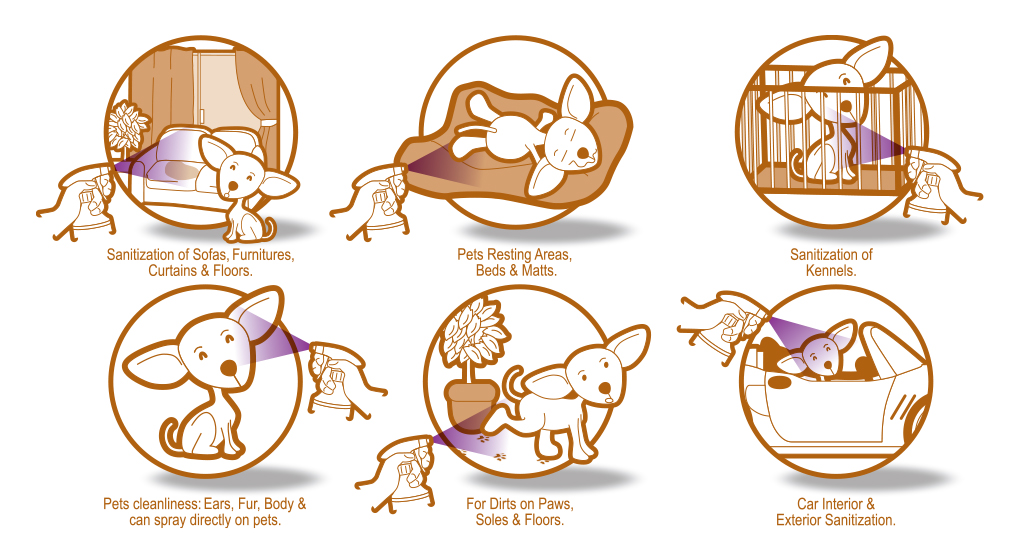 Description
Bio Ion Pets Pounce is a RO water content, 100% plants extract ionization & biotechnological formulation researched & developed from Japan. Further lab-test by Sunao Kubota (a PhD holder in Medicine, Japan), confirms that Bio Ion Pets Pounce with its natural properties is effective and Eco-safe for most usage.
It is also a deodorizer with sanitizing power that eliminates odor and kills 99.99% of bacteria commonly found airborne in any enclosed area, congested places or on any kind of surfaces. Ideal as cleansing agent, Bio Ion Pets Pounce flushes out contaminated air, surrounding your love ones and you with better air quality for a healthier living!
Benefits
– 100% Plants Extract
– Data approved by Technology Research Institute of Osaka Prefecture, Japan
– RO Water Based
– Eliminates Odor
– Kills 99.99% Germs
– Respond in 30 sec
– Kills 99.99% Airborne Bacteria
– Disinfects & protects against virus infection
– Eliminates odor, cigarette smoke smell & food stench
– Rejuvenates, purifies & refreshes air quality.
– With fragrance / without fragrance.
– Two Sizes: 500ml & 15ml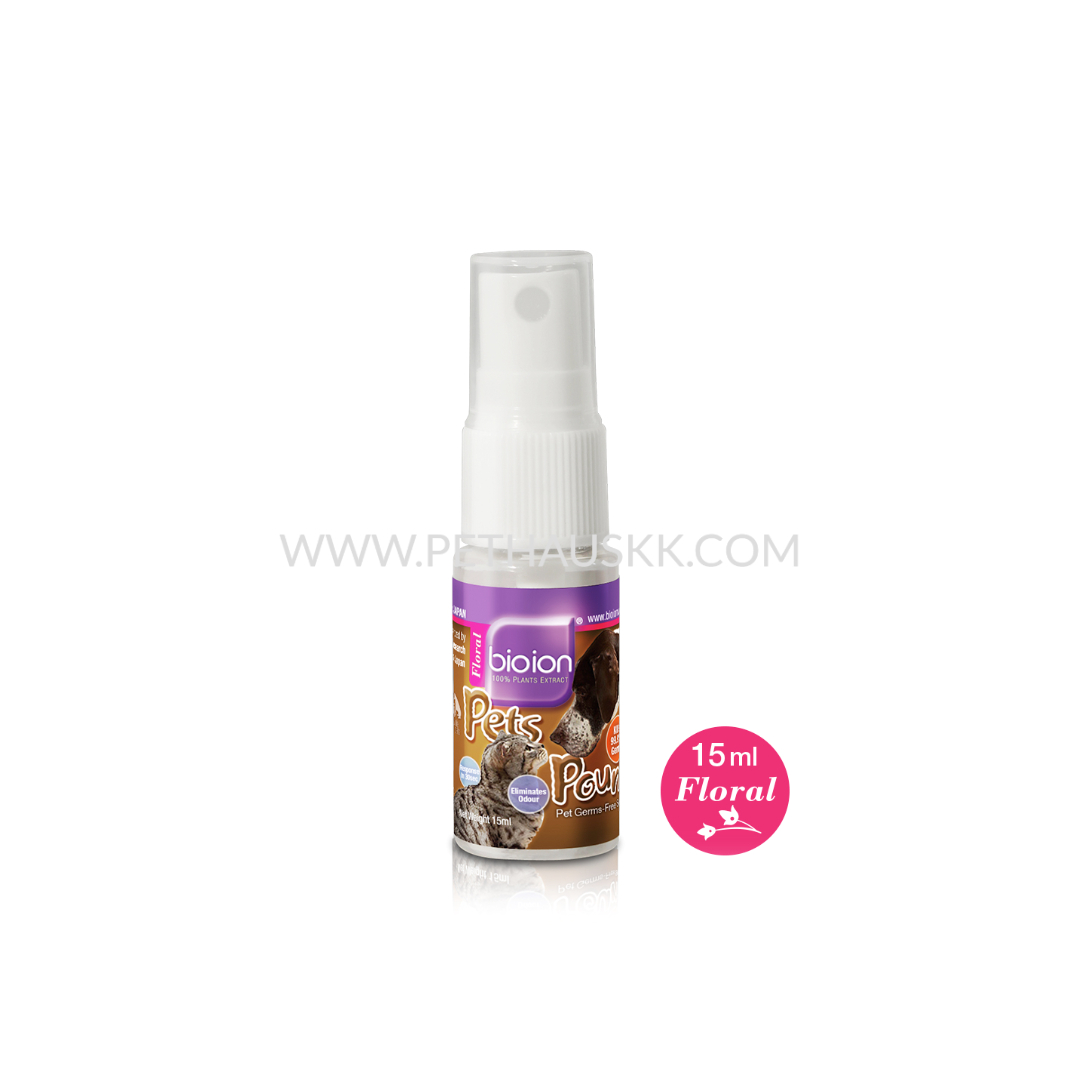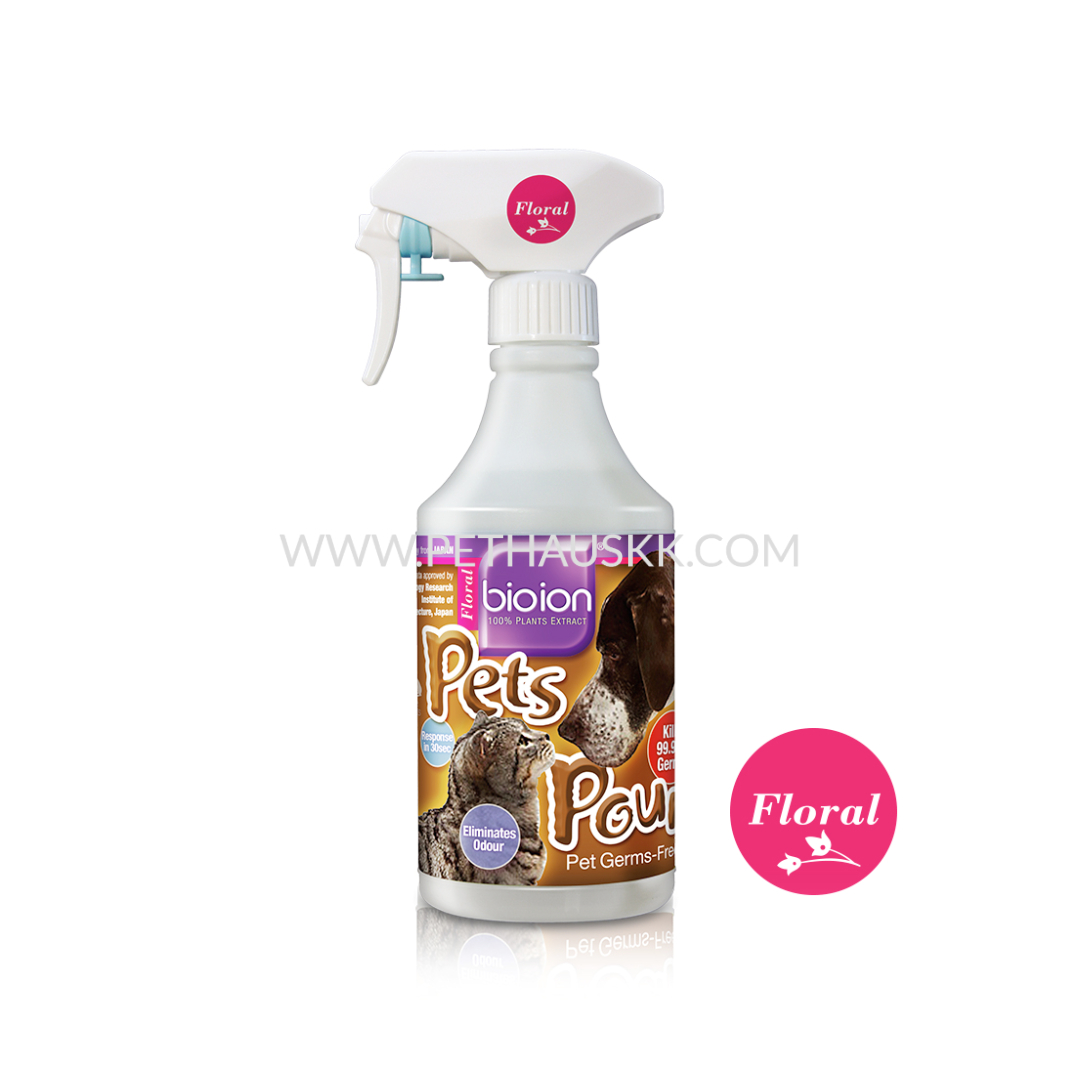 It is safe to use Bio Ion Pets Pounce on these furry pets as it is eco-safe, fragrance free deodorizer with natural plants extract.
You can spray them on their paws, ears and fur with ease and effectively eliminate the stench and harmful bacteria on your pets. Now, you can play with your pets with no worries

Suitable for all furry pets (cats, dogs, rabbits, hamsters, guinea pigs etc..)
Customer comments
| Author/Date | Rating | Comment |
| --- | --- | --- |
---