Migliorcane Unico Wet Pouch (DOG) - 100% Veal - 100g
DESCRIPTION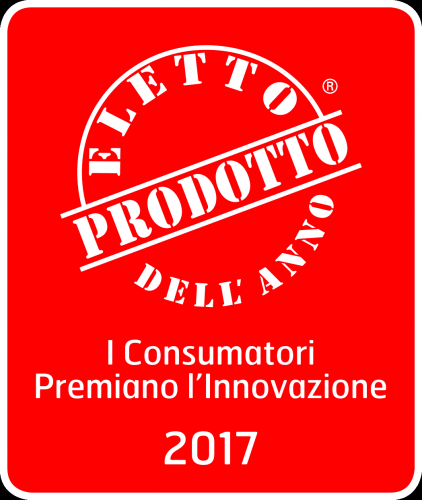 MIGLIORCANE UNICO AWARDED "PRODUCT OF THE YEAR 2017" IN PETFOOD CATEGORY
UNIQUE for the protein, UNIQUE for the freshness, UNIQUE for the taste.
A jury of more than 12,000 consumers awarded Migliorcane UNICO "Product of the Year 2017". International award, created in France over 30 years ago and in Italy since 2005, is now present in 5 continents and 37 countries with 3.5 billion consumers involved worldwide. The award is the result of a market research conducted by IRI on over 12,000 Italian consumers who have chosen 50 innovative products on the Italian market.
The fact that in a food are multiple types of meat is not a problem the dogs. Sometimes, however, they can have some problems arising from food allergies or intolerances to specific types of meat. In these cases it is essential to the use a monoproteic food, which contains 100% of one type of protein to which we know our dog is not allergic.
Moreover the alternation of different kinds of meat, allows to get used to different tastes and to exploit the nutritional intake of the various animal proteins.

Some dogs may suffer from digestive problems caused by food containing gluten. This is because, physiologically and in wild, dogs are not used to feed with cereals and their derivatives: this is why we decided not to use them in Migliorcane UNICO. Food colourants are safe for the health of our animal friends, but we preferred not to use them. Finally, we did not want to use chemical preservatives because the integrity of the food is guaranteed by the quality of raw materials and cutting-edge production technology. For the formulation of Migliorcane UNICO we use only natural ingredients, without the addition of chemical preservatives, colourants and other ingredients not found in nature.
MADE IN ITALY.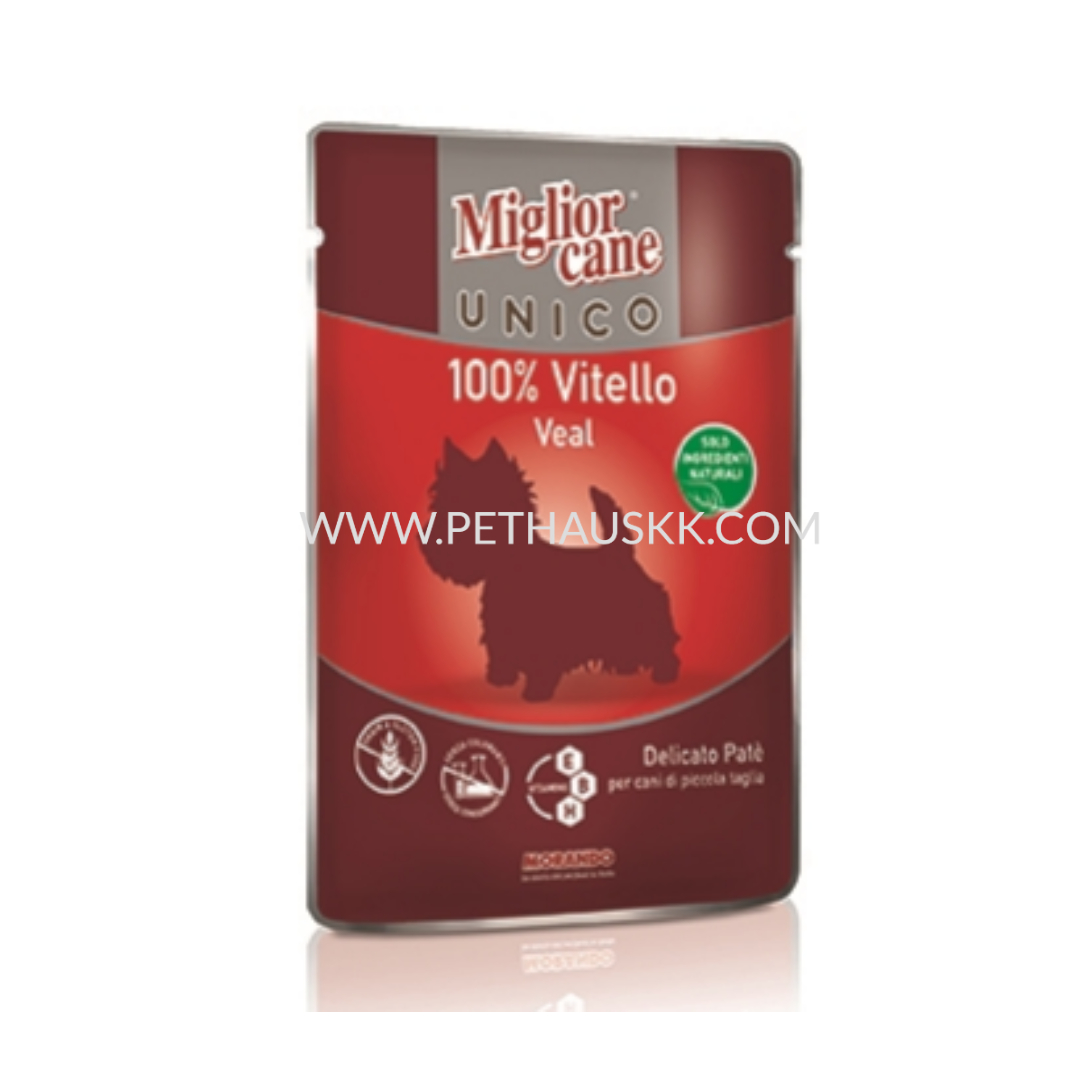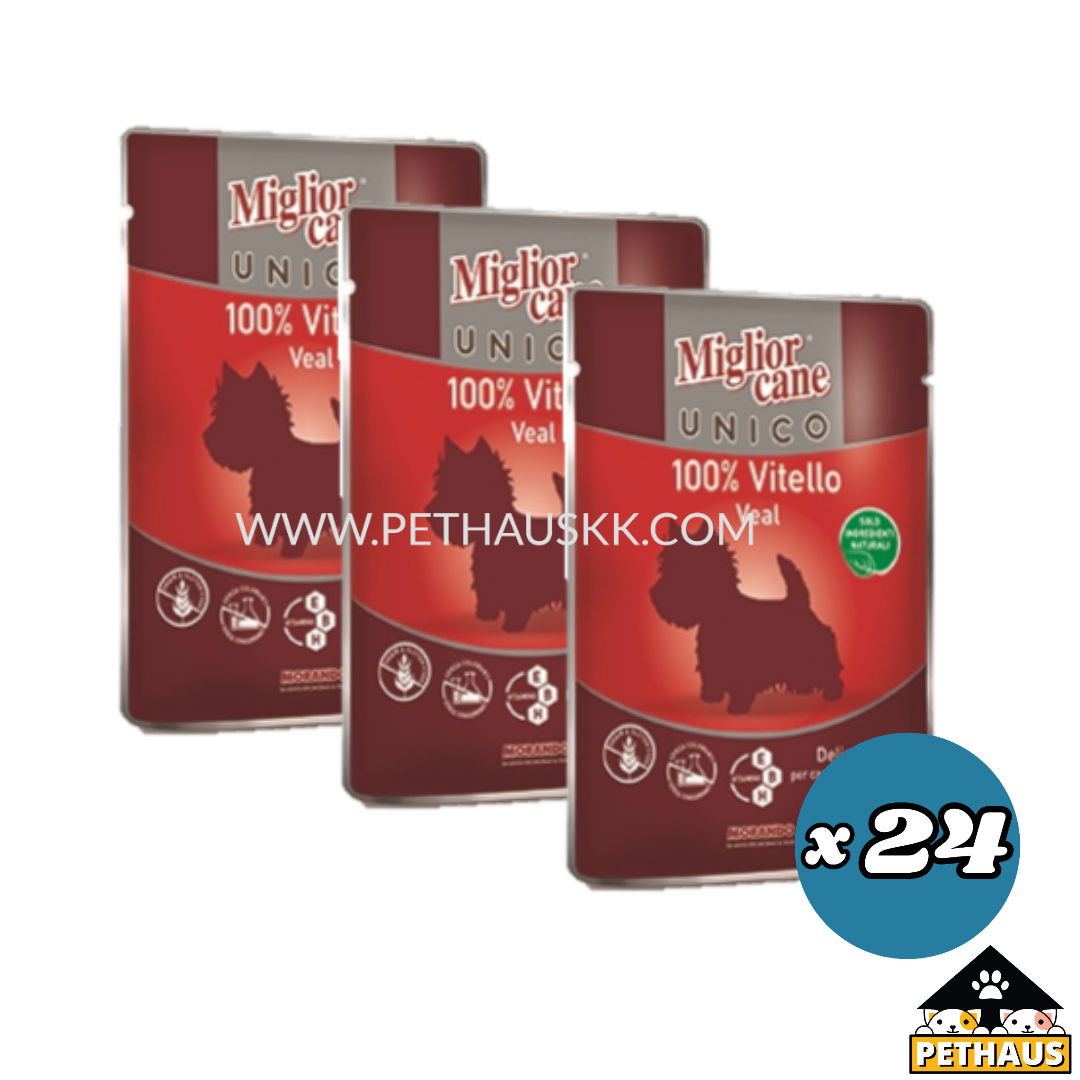 INGREDIENTS & GUARANTEED ANALYSIS
INGREDIENTS:
Meat and animal derivatives (veal100%), minerals.
GUARANTEED ANALYSIS:
Crude Protein 10.2% (min), Crude Fiber 0.2% (max), Crude Fat 5% (min), Moisture 81% (max), Ash 1.8% (max),
Vitamin E 7,5 mg/kg. Vitamin B1 4,2 mg/kg. Vitamin B6 1,0 mg/kg. Vitamin H 43,7 μg/Kg. Copper sulphate pentahydrate 0,8 mg/kg. Zinc Sulphate monohydrate 13,7 mg/kg. Manganous sulphate monohydrate 5,2 mg/kg. Potassium Iodide 0,9 mg /kg
FEEDING GUIDE
Feed whole neatly or mix with dry food.
After opening, reseal and refrigerate. Use within 2 to 3 days after opening. Fresh water should be available at all times.
Customer comments
| Author/Date | Rating | Comment |
| --- | --- | --- |
---