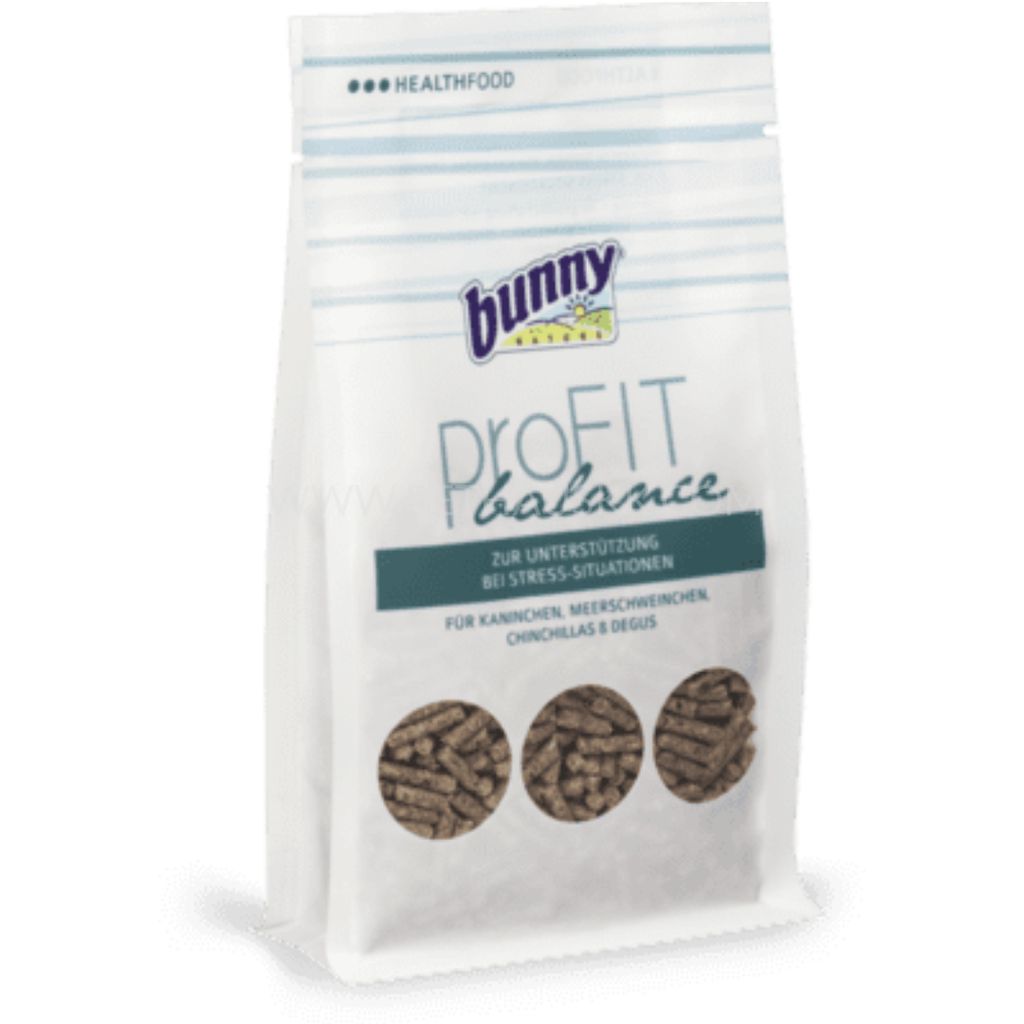 Bunny Nature - proFIT Balance FOLIVOR 150g
proFIT balance
FOLIVOR
Supplementary food for dwarf rabbits, guinea pigs, chinchillas & degus
Blood sugar BALANCE
Inulin regulates the blood sugar level

Hair BALANCE
Brewer's yeast & brewer's grain promote healthy skin, fur & claws

Intestine BALANCE
Inulin & camomile have a positive and soothing effect

Vitamin BALANCE
The balanced vitamin content strengthens the immune system
Bunny Nature is a company that was founded out of love for animals. Our objective was and still is to produce the ideal healthy food for small mammals, corresponding exactly to their original habitats and the needs of the animals.
Ingredients: Oat peel bran, carrot pomace, wheat bran, sunflower seed extracted, fruit pomace, linseed extracted, brewer's grain*, carob, brewer's yeast*, camomile blossoms (1%), calcium carbonate, chicory powder (0,6% inulin)(*total 4%)
Additives per KG: Nutritional additives
Vit. A 10.000 IE ∙ Vit. D3 700 IE ∙ Vit. E / all rac-alpha-tocopherylacetate 60 mg ∙ copper as copper (II)-sulphate, pentahydrate 6 mg ∙ iodine as calcium iodate, hexahydrate 0,9 mg ∙ iron as iron (II)-sulphate, monohydrat 50 mg ∙ zinc as zinc oxide 60 mg ∙ manganese as manganese (II)-oxide 40 mg ∙ selenite as sodium selenite 0,18 mg
Analytical Constituents: crude protein 12,5% · crude oils and crude fats 2,9% · crude fibre 18,5% · crude ash 6,4% · calcium 0,6% · phosphorous 0,4%
Feeding Guide: Add up to 2 teaspoon(s) per day to the basic food – depending on the size and weight of the animals.
Customer comments
| Author/Date | Rating | Comment |
| --- | --- | --- |
---