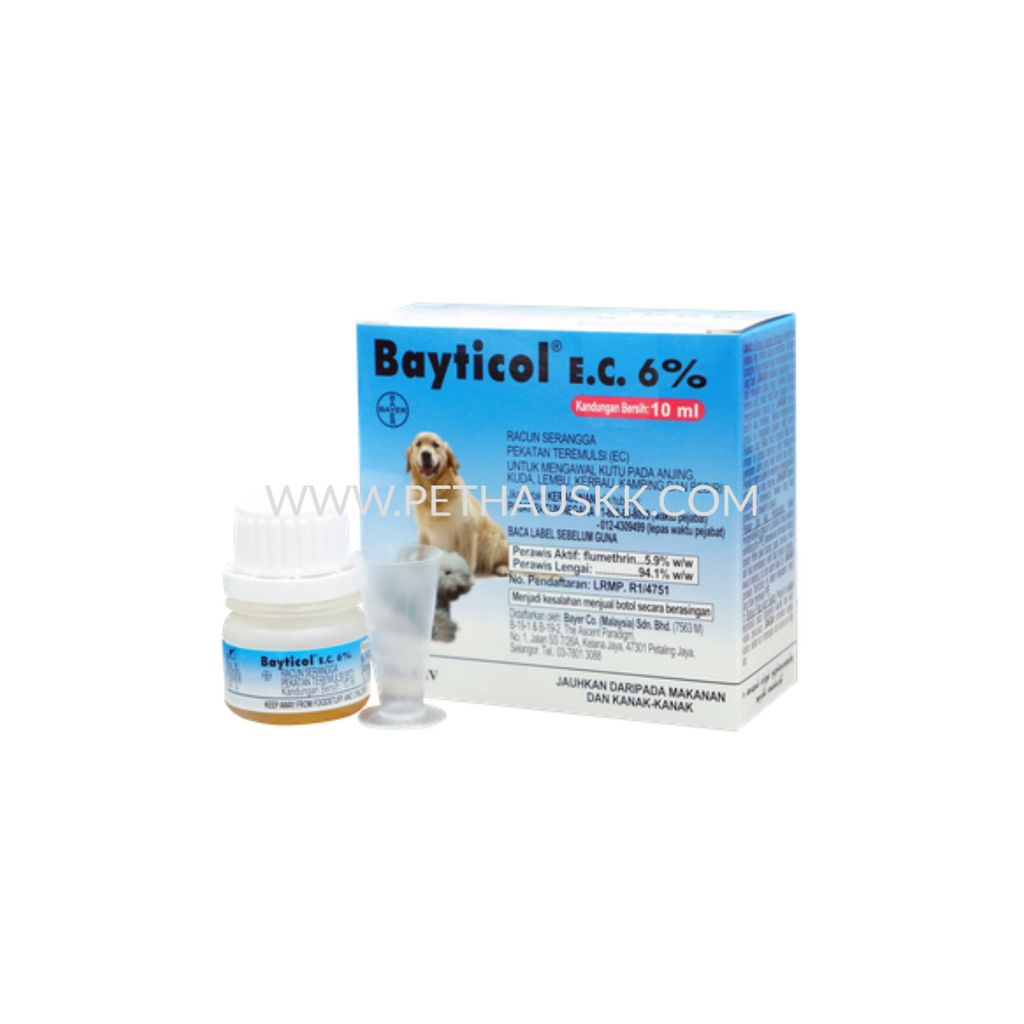 Bayticol EC 6% 10ml
Benefits:
For the control and elimination of ectoparasites in dogs such as ticks, fleas, mites and lices.
The Bayticol 6% E.C. is effective for killing both adults and tick larvae at all stages. In addition, itprevents
laying of engorge ticks.
This product is safe for using in pregnant, lactating and debilitated animals as well as puppies.
Usage Guideline:
SHOWER ON ANIMAL:
Bathe the dog with regular shampoo and rinse first with clean water.
Second rinse with a mixture Bayticol then stroked / scrub with a sponge (sponge) as a whole over the dogs body (rub the opposite direction of the fur) around 10 ~ 15 minutes. DO NOT LET THE DOGS licking body or product.
Allow the dog to dry without rinse.(Make sure the dog dry completely ) Use a blower or hair dryer. Do not let the dog under the hot sun.
* Repeat every 2 weeks, or if there are signs of infestation appear in dogs.
SPRAY AROUND THE HOUSE
Mix 1ml Bayticol with 1.5 liters of clean water.
Spray the area around the house (1 liter per square meter), the walls and the corners of the room.
During the spraying process, KEEP PET AWAY from sprayed area until those area completely dried.
Composition
Indication
For the treatment and control of tick, flea, biting and sucking lice, Sarcoptic, and ear mite infestations.
Application / Dosage
Mild case
7ml Bayticol® : 10 litre water
Severe case:
12ml Bayticol® : 10 litre water.
Packaging
Customer comments
| Author/Date | Rating | Comment |
| --- | --- | --- |
---